Kortni McCall, DO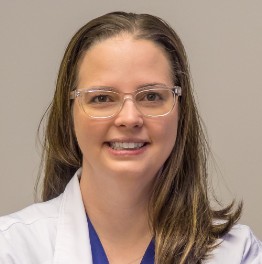 "'The quality of mercy is not strained.  It droppeth as the gentle rain from heaven upon the place beneath. It is twice blest: It blesseth him that gives and him that takes.' – Portia,  William Shakespeare, The Merchant of Venice, Act 4, Scene 1.
This quote was inscribed upon a large rock plaque that was visible daily to all medical residents, including myself.  Every day, for three years, I read this quote both at the beginning and the end of my 12 and 24 hour shifts.  The quote has now become a personal motto for me during my medical career.  Serving patients in need of medical care is definitely a privilege and an honor, but, even more so, a blessing.  I wish to form physician-patient relationship with you that will help improve your physical health, mental health, and overall well-being" – Dr. Kortni McCall, D.O.
About Dr. McCall
Dr. McCall specializes in internal medicine as well as hospital medicine, caring for patients here at Innova Primary Care as well as patients at Crestwood Medical Center.  She enjoys reading on a variety of topics, listening to an eclectic range of musical tastes, as well as traveling the world. She teaches medical students who are in the process of becoming physicians themselves.  She participates in medical mission trips and is especially interested in sea turtle conservation efforts.
Dr. McCall and her healthcare team personally work with patients on the following:
Handling the complicated aftercare of patients having suffered heart attacks, strokes, etc.
Preventative care
Managing chronic medical conditions such as high blood pressure, diabetes, high cholesterol, COPD, etc.
Mental health and overall well-being
Nutrition and Fitness
Striking a healthy balance in patients' lives
Education
Magnolia Regional Health Health Center Residency Program
West Virginia School of Osteopathic Medicine
University of North Carolina, Greensboro
B.S. Biology, Magna cum Laude August 2001-May 2005
Professional
Alpha Epsilon Delta Induction Ceremony Keynote Speaker, UAH, 2019
Legacy of Hope Physician Champion, 2019-present
Memberships:  Madison County Medical Society, Medical Association of the State of Alabama, American College of Physicians